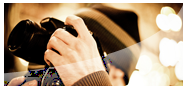 Advances in digital photography have made photos an essential aspect of ones life memories. Images can tell a story, invoke emotion, and communicate in ways words can't speak. At Quinceanera Productions, our designers fully understand the value of effective photography.

Our versatile Design Team spend much of their free time away from their computers exploring the world on photographic outings; constantly in search of creative inspiration. Whether conducting a studio photo shoot or scouting outdoor panoramas, our team knows how, when and where to create the perfect shot. Beyond acquisition of photos, our team are experts in a wide range of techniques including the advanced processing of Camera RAW images using a variety of application editing solutions such as Adobe's Photoshop. With the aid of our highly developed professional photographic capabilities, Quinceanera Productions is uniquely capable of successfully communicating our client's message through imagery.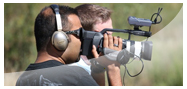 Well beyond just photography, the Quinceanera Productions Team is regularly tasked to perform their art in other forms of media. Drawing from our long history of motion graphics experience, our designers have highly developed their expertise in the creation of video based solutions; ranging from the initial acquisition of video footage on through final editing and encoding. Today, we offer our clients a full range of output options, including the delivery of broadcast quality solutions.

The Quinceanera Productions Team excels in several areas of the video production process, including post production and compositing, as we focus to create immersive, cutting-edge broadcast media experiences for purposes such as DVDs and commercials. Utilizing the latest in production facilities, software, and video editing equipment, our talented team has the means and capabilities to meet any video challenge.